The Emperor Model - our best seller.....
The Emperor is my take on the beloved 3-pickup model from Fullerton. The shape that we all know so well was designed perfectly in the 50s - I have hopefully added to it's playability and comfort with a few modern alterations and have offered a couple of switching options that deliver a number of fresh combinations.
Options, options...
Fixed bridge or tremolo, Gotoh or Sperzel tuners, custom pickups configurations, 'Gray' or butterfly, gloss or matt nitro finishes, fret sizes, fingerboard radii - its all up to you and customisable.
No more neck plate
The neck to body join area no longer has square edges and a bulky neck plate. Instead, this area has recessed neck bolts and softened edges giving effortless access to the upper frets.
All about the wood..
I have searched internationally for the best materials possible for Gray Guitars. This is a piece of master grade, roasted, flame maple. Strong, solid and beautiful.
Effortless playability
The fingerboard has a modern, 9 - 12 compound inch radius and sports large, highly polished frets - these factors make string bending a breeze with no 'fret outs' that can be a problem on vintage accurate, rounder fingerboards.
Pickups choices....
Any combination of singles, humbuckers, P90s, Filtertrons, and JM style pickups are available. Plenty of switching options too, series-parallel, coil split, neck blenders, you name it…..
Simple volume and tone?
Keep more space for your right hand and a simple volume and tone layout if you like…
Side jack...
An uncluttered guitar top? Just ask….
MIDI? No problem...
Custom options such as the Roland MIDI set ups and the Fernandes Sustainer system are possible too.
Humbucker or single?
On this Tim Renwick Emperor, the second tone control acts as a coil tap knob - gradually creating a single coil from your humbucker. Very versatile.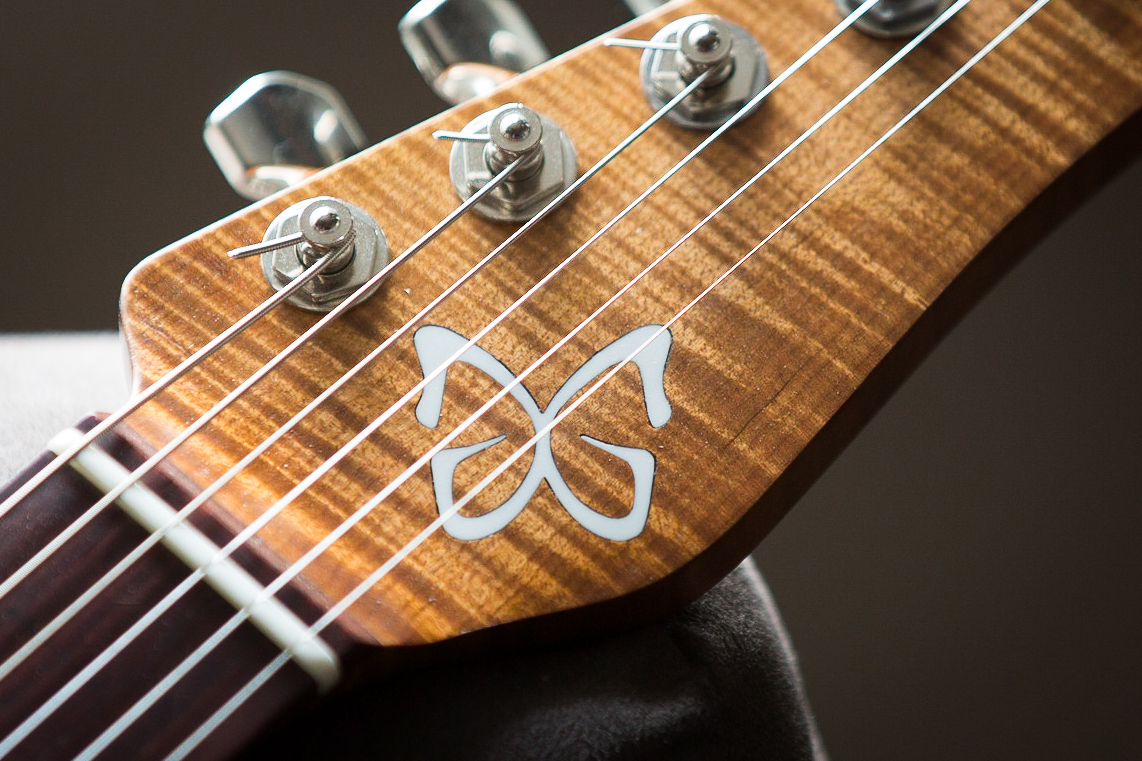 Solid tuning stability
I use staggered, Sperzel tuners. They eliminate the need for string tress - less friction, better tuning stability.
Here is Chris Buck of Buck And Evans playing his custom Emperor model whilst explaining his choices. Beautiful sounds!
Here is London session supremo, Mike Bradley putting this very guitar through it's paces! Some lovely tones, Mike!!